Welcome to Snivypedia - the Ultimate Custom Pokémon Wiki!
Snivyepdia is a Pokémon Wiki where here, you and other fans of Pokémon can create Custom Pokémon and display 'em in its own encyclopedia article! Anyone can put their Custom Pokémon and stories on this wiki, as long as it's not inappropriate and/or copyrighted.
If you're new here, we encourage you to make a free account. If you already have a username, go ahead and make an article with the box below, or edit an already-existing one. Above all else, have fun!
Iceblaze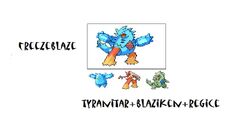 Iceblaze is a rather interesting Pokémon, because not only is it your average Pokémon, but it's your average Pokémon Hybrid.
Pokemonspriter2000
did a really good job on the Hybrid, especially with the colors. Not only that, Iceblaze is a combination of three really cool Pokémon - Regice, Blaziken, and Tyranitar. We hope to see more of Pokemonspriter's work. And Pokemonspriter, keep up the good work!
Vote for the next Featured Article here!
Latest activity
Edit