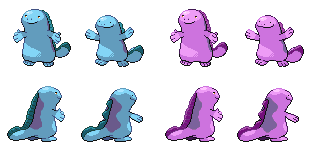 Mega Quagsire is the Mega Evolution of Quagsire; it retains its Water/Ground typing.
Information
Edit
Type: Water/Ground
Ability: Prankster
Height: 5'07"
Weight: 235.3 lbs.
Mega Stone: Quagsirenite
Location: Dry Tide Pond
New Level Up Moves:
Edit
Start: Spew Poison
Level 48: Waft
New Tutor Moves:
Edit
Frenzy
New TM Moves:
Edit
TM 105 Upheave
TM 108 Sand Trap
New HM Moves:
Edit
None
Base Stats:
Edit
HP
95
Atk
105
Def
105
SpA
85
SpD
95
Spe
45
Total
530
Ad blocker interference detected!
Wikia is a free-to-use site that makes money from advertising. We have a modified experience for viewers using ad blockers

Wikia is not accessible if you've made further modifications. Remove the custom ad blocker rule(s) and the page will load as expected.